Our Church School
Our Christian Value this half term is
Patience and Endurance
We are a distinctive and caring Christian school which encourages and develops the 'light' within every child (and person in our school community), valuing them as made in the image of God. Children know they are loved, are of infinite worth and are supported to develop an understanding of Jesus Christ as their Lord and Saviour – sharing His love with whoever they meet.
Our values are clear as a church school and are shown in our fused glass windows for all to see.
We focus on a particular value and try to live it out every half term.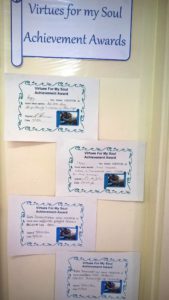 The certificates in the photo above show what we have achieved at home as well as at school.
The slides below show our values from our school windows.
Our Year 5 children went to Ingleton Methodist Chapel to 'Rewind to Christmas'
Look at some pictures from around school here